This necklace design shows one way to add just a little extra pizzazz – and highlights the idea of repeating a motif or design element: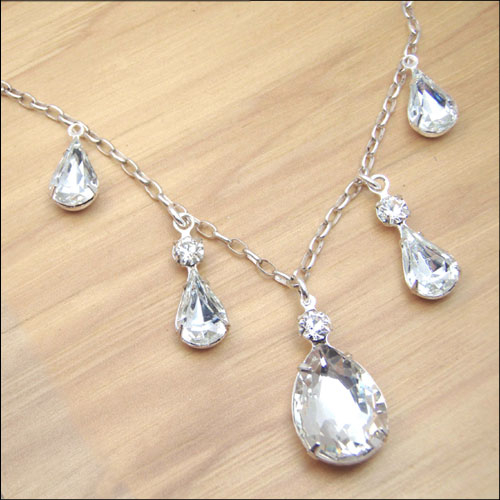 The crystal rhinestone pear jewel as a design element is repeated three times here. The central two-jewel "duo" pendant measures just a smidge over one inch long and is the focal of this necklace. Yes, it's available here in my Etsy shop – all these jewels are (of course I used my own stuff for the example here)!
I repeated the "crystal teardrop" element in two similar-but-not-identical shapes. It doesn't have to be teardrops. Try the same idea with round beads or crystals, in ascending size to the central, larger pendant.
It adds an extra bit of design excitement 🙂
This idea isn't original with me – it probably started back in the Stone Age. Take the idea – run with it – make it your own!