Yes, I like to play with beads and jewels – they're my medium, if you like. And I think it's good to try things that we aren't "supposed to do". After I saw that yummy, fuschia pink silk dress (see my post here), I couldn't resist playing with some fuschia pink jewels.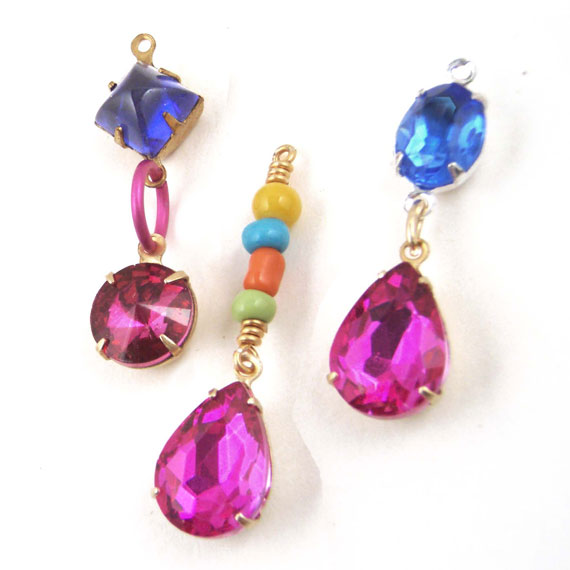 I deliberately grabbed beads and jewels that I wouldn't usually pair with the fuschia pink jewels. In the example on the left, that big jump ring is aluminum – not a material you expect to see with a classic rhinestone teardrop. And the upper stone is navy blue.
In the middle design, those round(ish) beads are glass E beads – I probably wouldn't choose those color combinations and those very..hmm…casual beads. But hey, why not try it?
The design on the right has a sapphire blue oval paired with the fuschia pear. And the settings aren't even the same color. Well, we definitely wouldn't do that.
But – why not? Okay, if it was me, I'd try to use three different settings, not two, so it looks deliberate. But that's me. You ought to do – whatever feels right to you. Both gold and silver settings in the same earrings?
Why not?