Are you going to make a gift for your mom this year? Or maybe your customer is asking for birthstone colors for the earrings she wants for her mother 🙂
And it's simple to select the birthstone colors you need to use for your "gift for mom". Here's an example of earring drops (or a delicate pendant) made with three stones – sapphire blue for September birthdays, amethyst purple for February, and aqua blue for March. If those are your kids' birth months, you're good to go!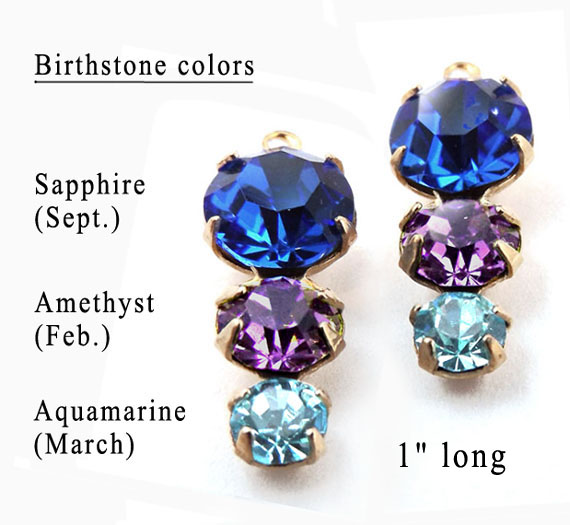 In this triple-jewel setting it's easy to customize the colors for your earrings. These are delicate little drops, about 1″ long – which makes them super comfy for earrings. There are two-jewel settings too of course, and I'll be featuring those soon. And if you have more kids? There are designs we can work on, easy peasy 🙂
As always, if you don't see the exact "triple" settings, or rhinestones in the birthstone colors you need, just ask. If I haven't got them already I'll get them, or help you find them. It'll be fun and easy to make your mom a customized birthstone gift!