I'm getting in a new line of supplies – so I can offer stainless steel chain and basic jewelry findings in my Etsy shop. Once I'm sure about my supply line, and have field-tested the stainless steel, look for them in my store!
"Field test", you ask? Well of course. This is a new line for me and I want to be sure the quality is as good as it's supposed to be – and reliable. My main supply vendors purchase from several sources – U.S. I know, as well as UK, Thailand I think, China, and probably others I don't know about. I've had wonderful quality – usually – but I also test 🙂
This is the first thing I've made for myself from my new chain 🙂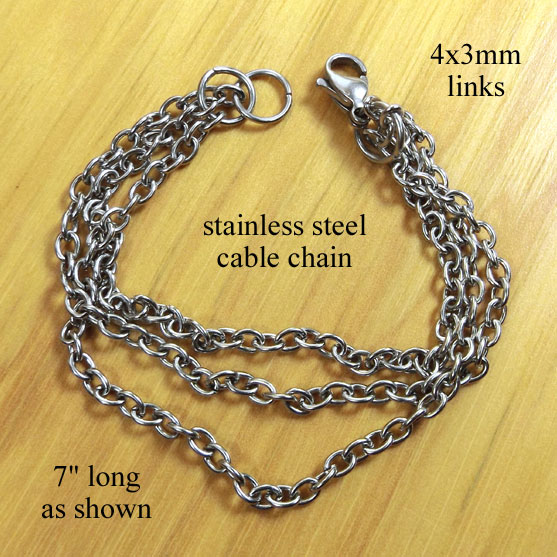 Just testing, you understand. I've been wearing it for a week – haven't taken it off at all, and that includes swimming, washing dishes (by hand, darn it), playing with the dogs, raking leaves, as well as ordinary domestic stuff like vacuuming and laundry which doesn't really affect jewelry but is a chore all the same 🙂
So far so good – no residue, no damage, nothing bad: I think I've got good stuff. Stay tuned!