I've talked about this before – whether your jewelry design is intricate and complex or minimalist simple, color can take your design from "nice" to "fabulous".
My personal preference is for earrings that have a lot of presence but are not super heavy (I'm all about the comfort thing). These rhinestone combinations fit that bill nicely – multi stone settings for round stones combined with teardrop settings. And you have so many color choices!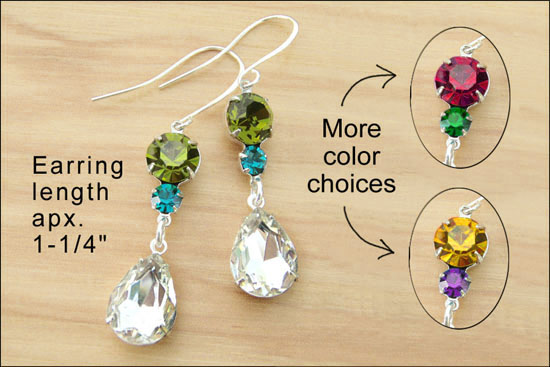 In the pic, you can see crystal teardrops with olivine and blue zircon rhinestones, crystal with ruby and emerald glass, and crystal with golden topaz and amethyst glass. And these are only a few of the possible combinations – you can match your Christmas outfit, or your wedding colors…. or hey, your pajamas, if you want!
The thing is, color is inexpensive – and fun – and you should totally be able to design your jewelry to get exactly what you want! That's the win 🙂
P.S. And if you visit my online jewelry supplies shop and don't see the bead color or jewel shape you're looking for – please do ask. I've almost always got new goodies that aren't listed yet 😉