I'm just getting started with this blog, and it's going to be fun! You can tell from my blog name that I love vintage glass, and sparkling rhinestones, and vintage jewelry 🙂 I'm going to be setting up an online store soon so you can purchase some of these yummy vintage glass jewels here if you like (with special deals of course!) But this blog isn't (just) an online store.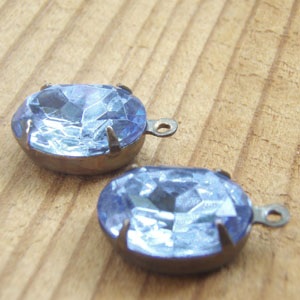 Right now these pretty glass jewels link to my
Etsy Jewelry Supplies Shop
– if you do go there, remember to check out the reserved listing discount 🙂 And stay tuned to see more goodies right here!
But as I said, I'm not going to be just selling pretty jewels – I'm going to talk about making pretty jewelry. And my love of vintage isn't just for jewels – or jewelry. I love the idea of recycling – reusing – and rethinking. It's a motto we all need to adopt – and it's also a wonderful way to be creative (and save money!) So there'll be lots of vintage re-use and re-cycle ideas here from time to time.
Of course there'll be lots of times I just have to share something I found – or found funny – or want to vent about!
So, welcome – let's have a good time!