So I was putting together a pair of earrings that feature two of my favorite design elements: vintage glass rhinestone jewels, and chains. More importantly, chains of more than one style and more than one metal. I love the look – maybe a little messy, casual, easy to wear 🙂
These earrings have sapphire blue rhinestone pear jewels in silver settings, with silver, copper, and golden chains in deliberately un-matched styles. I added small yellow-green teardrops – just to give a little tangy color to the mix.
Then I tried an experiment – take a look at the earring, with small crystal rhinestone rounds added asymetrically.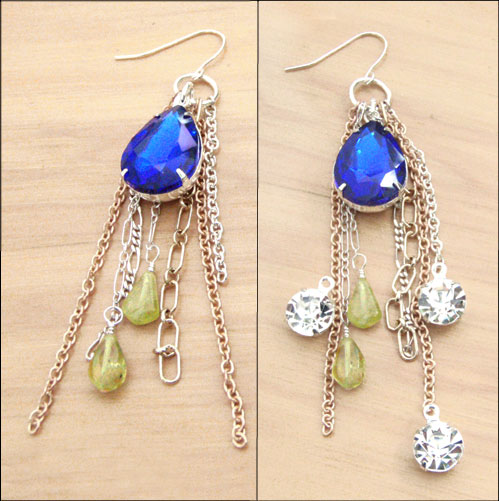 Sapphire Vintage Glass Pear Jewel Earrings
It's a nice way to give a little extra sparkle – and suppose you were to use small jewels in, oh, peridot green, emerald, aqua…. or pink and orange.
Try it! Take this sort of design and run with it. Play with textures and colors – there is no "wrong" way to do it – and you'll be surprised at how many designs you can create with this basic concept. Make it yours!