Or, well, Part Next because I can't remember if I did Part Two or Three already. But these are definitely "do it yourself" earring designs. This was another little instanteous assignment I gave myself – "okay, create a few earring designs using just what's sitting here on the desk in front of you right now".
This is what I got: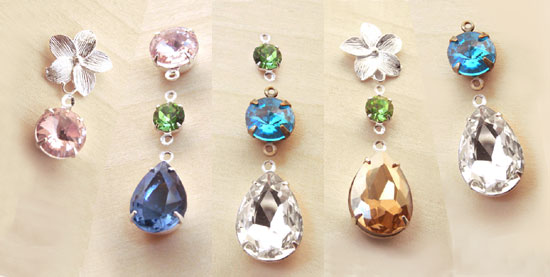 Once again, i didn't try to "match" colors. I just played with simple combinations of stones (and one ornament, the silver-ish flower) I had sitting on my work table. These would all be simple to make, using jump rings or wire wrapping with other small beads. Okay, they're not Tiffany's, but they're doable and fun and would look gorgeous on you. And they don't cost much. And you can do it.
And until you hit the lottery, doesn't that work for you?
P.S. Oops! Yes, these components are all available in my Etsy shop.