I think these are just darling – earring jewels set into closed, flat-back settings, so you can make your own button or stud earrings. Add a little sparkle to your everyday outfit! These are not Extreme, or dangling, or any of that – they're just fun and pretty and you can wear them anytime or anywhere.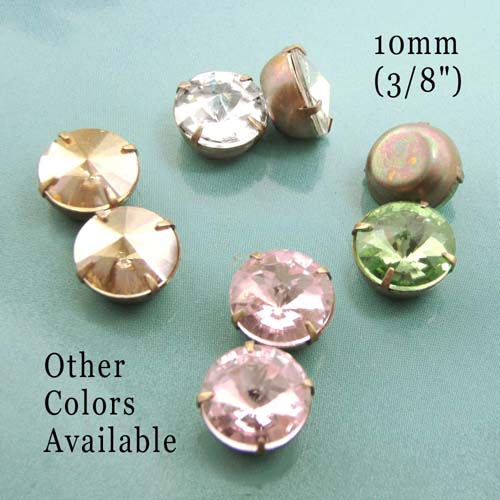 These are "rivoli" jewels, which have a faceted point (rather than "flat table", as in "table tin cut") on the face of the jewel. They have a wonderful sparkle, and they're available in vintage patina brass or light golden (raw) brass settings. Use a secure jewelry glue to add an earring post or clip-on to the back, and you have quick and easy and gorgeous earrings.
Lots of colors, too – I show them here in soft rose pink, crystal, peridot green, and light colorado topaz (golden tan) – but I'll have lots more choices in my Etsy shop– I just took this pic first.
Gifties for your buds, or for yourself – look great, and spend less. This is a good plan!