Yes, another one (these are fun!) I'm posting a pic showing a glass jewel combo that I think of as "summer jewels". The white teardrops are vintage glass made in post-war Japan – I just found a packet I had stashed and lost! I know that never happens to you guys, right? You put something somewhere so it'll be safe and findable, and then forget where you put it? Yeah. So anyway: white teardrops, clean lined and beautiful. Pair the white jewels with these aqua (light turquoise) rivoli faceted glass connectors and voila, white and turquoise – a classic summer color combination. And you've got a great pair of summer earrings 🙂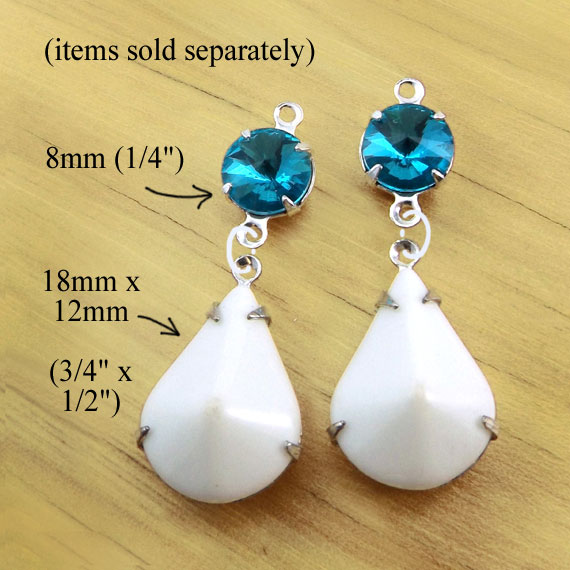 So here's the deal. Buy either of these jewel styles, and you get a second pair of jewels free – equal or lesser value and all that. In practice, it means that if you buy the white teardrops, you can get the aqua glass connectors for free! Or choose another color – take a look around my shop and I bet you'll find some that'll be perfect for you.
The BOGO offer is just till the end of this week (from today, April 3, 2018, until midnight on Saturday, April 7, 2018) so don't wait too long. And have fun!
PS Come to think of it – these white teardrops, paired with crystal clear sparkly glass beads instead of the aqua, would be gorgeous for bridal earrings. Just thought I'd mention it 🙂